Owner @ Willoughby Spitt Extracts Virginia Beach, Virginia September 2016 – Present Processing 100% solventless hash oil (SHO) rosin concentrates with a NugSmasher XP rosin press and medical dispensary quality pull & snap consistency BHO (butane hash oil) shatter (for a flat fee by the unit only) purged for a minimum of 132 hours in an Across International vacuum oven with pump. I also process Rick Simpson Oil (RSO) for cancer patients in need. Contact Willoughby Spitt for all inquiries.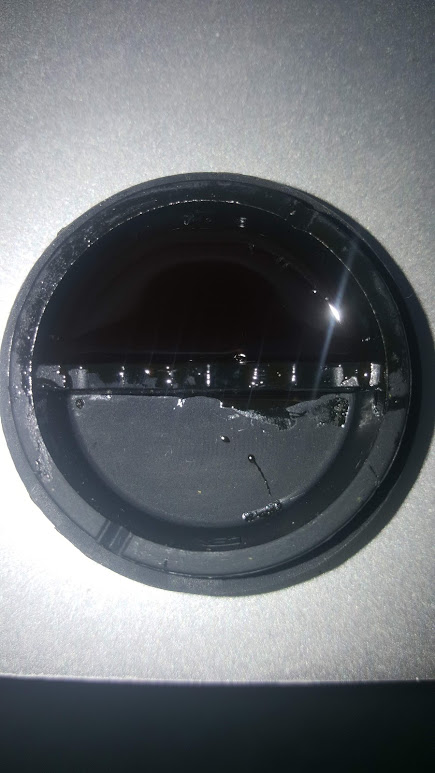 Cannabis Farming, Production, Manufacturing & Sales Research – Willoughby Spitt Extracts Humboldt County, California August 2018 – October 2018 I camped out in Humboldt County, Ca. in The Infamous Emerald Triangle for 3 months (literally sleeping in the drivers seat of my Subaru) after having lived and worked in the legal cannabis industry in Denver, Co. for 3 plus years in order to perform extensive Cannabis Farming, Production, Manufacturing & Sales research. I got the chance to mingle with a plethora of local Humboldt County Farmers, Farm Hands, Extraction Technicians and Cannabis Brokers, etc. and I made some really good contacts and some even better friends as well as obtained lots of invaluable information on Humboldt's cannabis industry in both the legal and black markets.
Cannabis Trim Crew Manager – Southwest Alternative Care (MED) & Kaya Cannabis @ Southwest Alternative Care (REC) Boulder & Denver, Colorado October 2016 – August 2018 Managed 18 member trim crew & determined work loads & plans, Managed day to day trimming/harvesting operations for two 38 light grows, Helped plan & manage harvest & trim dates, Ensured smooth operations from scheduling of harvests/trims to batching strain specific bins for cure, Maintained a clean & safe environment throughout post production, Completed Trim Room Payroll Sheets, Documented waste & all product weights through METRC, BioTrack & Google Sheets, Packaged & transferred all products for the stores based on reports as needed per harvest, Updated BioTrack, METRC, & all post production paperwork (manifests) during & after store transfers.
Cannabis Extraction Technician – LivWell Enlightened Health Denver, Colorado September 2015 – October 2016 Processed shatter and wax concentrates as well as a plethora of other marijuana infused products on a gargantuan scale for the largest legal cannabis grow in the state of Colorado.
ExtractionTek Solutions 1300/C Hydrocarbon Closed System Loop Basic Safety, Operation & Maintenance Denver, Colorado April 2016 – 2018 My ETS1300/C Certification enabled me to operate the ETS1300/C machine series extractors for LivWell, the largest dispensary in the state of Colorado.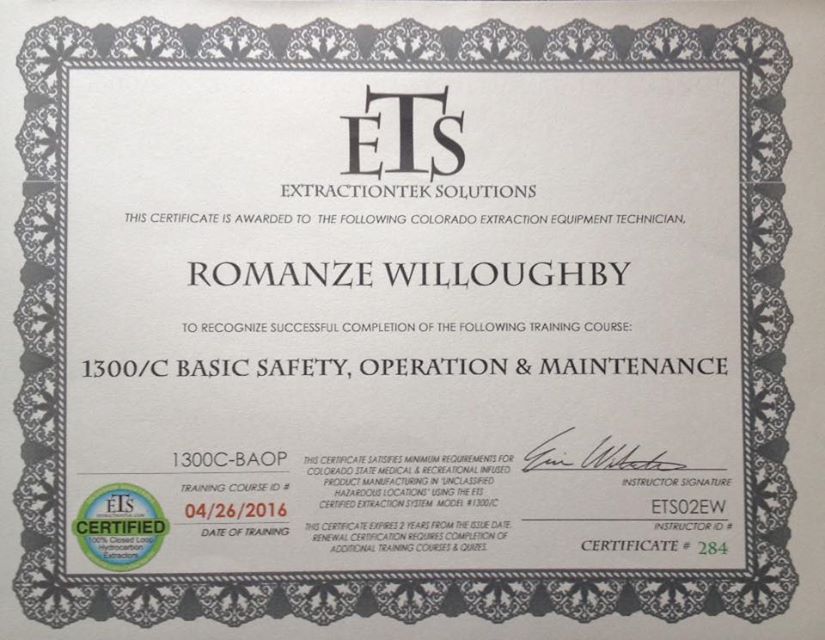 Cannabis Harvester & Trimmer – Southwest Alternative Care – Medicinal Cannabis Dispensaries Boulder & Denver, Colorado May 2015 – September 2015 Effectively prepared high grade medicinal cannabis for consumption by the processes of de-fanning and trimming for patients in need of alternative medicine for a plethora of physical and mental ailments.
Oaksterdam University – Certificate of Completion of Cannabis Course Los Angeles, California June 2009 Learned about the following cannabis related topics : Legal: Federal Vs State Law, Politics & History of Cannabis, Civics: Legal Rights & Responsibilities, Horticulture 101, Methods of Ingestion: Extracts 101, Methods of Ingestion: Vaporizing, Methods of Ingestion: Cooking, Methods of Ingestion: Topical Applications, Science: The Science of Cannabis Economics
Advocacy 102.